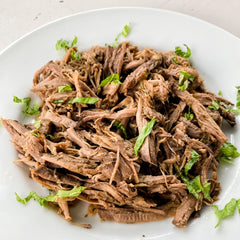 I've had a few conversations lately with people who a) avoid making a roast in the Instant Pot or b) just avoid making roasts all together. If you buy beef by the side from a farmer, you likely have several roasts piling up in the back of your freezer. But, oh the dinner possibilities you have with those cuts!
Making a roast in the Instant Pot is easy and excellent, but you have to do it right. Here are my favorite tips:
Start with a well marbled cut. Fat=flavor and keeps the roast moist. You don't always have control over this when purchasing in bulk, but if you know your farmer, you'll get to know the quality of their cuts.
Season it well with salt and pepper, then sear it on all sides. This is an important step so DON'T SKIP IT! Set your Instant Pot to saute, let the oil get hot, and then add the roast. All those brown bits your create add another layer of flavor.
After all sides are seared, pour in 1-2 cups of water or beef stock and seasonings of your choice. Add some butter for good measure.
Lock the lid of your Instant Pot and set it to pressure cook on high for at least an hour. If it's still slightly frozen, add time. If it's a large cut, add time. Because the Instant Pot is sealed while cooking, it keeps moisture in so it's hard to overcook.
Which brings me to my next point, and probably the most important when making a roast.
NATURAL PRESSURE RELEASE. When you do a quick release, all that steam that's blasts out of the Instant Pot is coming right out of the meat. Allowing a natural pressure release (and this takes a little time) keeps the juices in the meat for very tender beef.
Break the roast apart and let it cool slightly, then grab your nitrile gloves and shred. I like to set the Instant Pot on saute to cook down the juices and then add the meat back in. You can also make a gravy or add your favorite BBQ sauce.
If you give it a try, message me and tell me how it went!